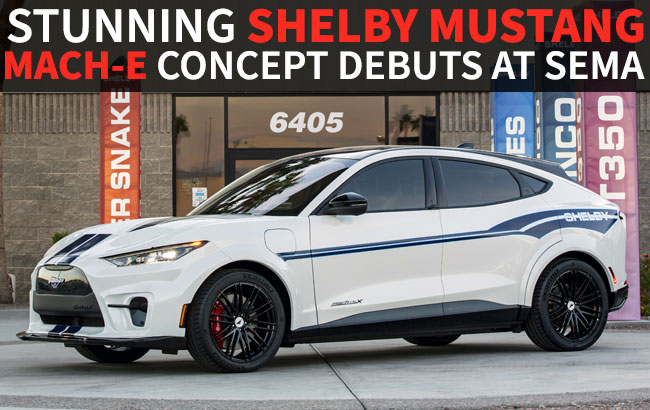 All-New Shelby Mustang Mach-E Concept Vehicle
Shelby American has created the Shelby Mustang Mach-E Concept vehicle based on the exciting and innovative Ford Mustang Mach-E GT platform. The research testbed, which portends a future high-performance electric vehicle from Shelby American, is on display inside the Ford Motor Company exhibit during the international show.
Visionary Carroll Shelby continually experimented with new technologies to find a competitive edge, including research into electric vehicles. He discussed the subject in an interview published by Ford Performance 10 years ago this month. "...We're getting into so many things that I think are interesting," said Carroll Shelby. "Electric cars, different types of fuel. They're calling them the 'green years.' And I'd like to be around to see how this works out. I'd like to be a part of it."
The 2021 version modified by Shelby has electric all-wheel drive (eAWD) and the Performance Edition Extended Range Battery. The Shelby team put an emphasis on cutting edge materials. The stunning exterior features graphene infused carbon fiber body panels, and the vehicle rides on a composite spring suspension. The team is also in development on powertrain improvements to the EV platform.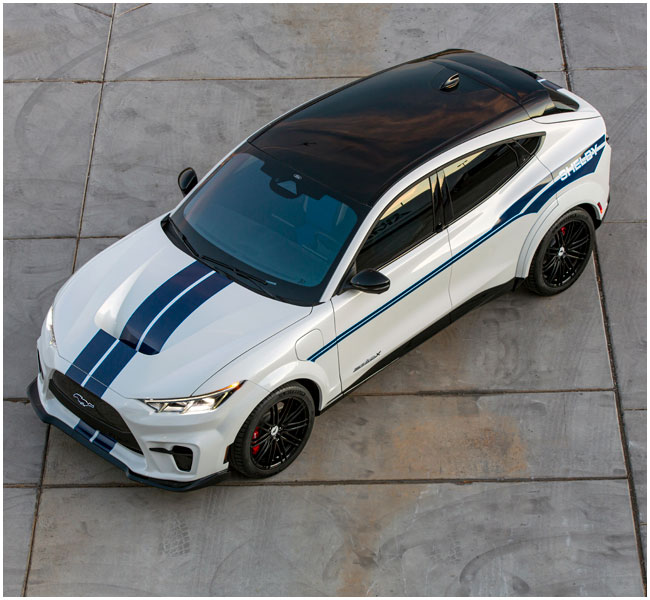 The concept Shelby Mach-E GT is a glimpse into a new generation of extraordinary vehicles planned for the future, alongside ICE powered cars and trucks. At Shelby American, performance is our business. For more information about Shelby vehicles, please visit www.Shelby.com.
Subscribe on YouTube
Follow on Twitter
Follow on Instagram
Like us on Facebook
NOTE: Pricing, options and availability subject to change without notice. LED lighting for off-road use only. International customers should check for import restrictions.

SHELBY®, SHELBY GT®, GT500®, GT350®, SUPER SNAKE® and SHELBY AMERICAN™ are registered trademarks and/or the tradedress of Carroll Shelby and Carroll Shelby Licensing, Inc. (Shelby).